SRC-0102 - Raritan - Smart Rack Controller, With 2x local door control SmartLock ports, Supports DX & DX2, Control Environmental Sensors, Monitor Locks, Asset Management (Raritan SRC) Sensor Hub
Description:
Direct Replacement to EMX2 line, utilizing latest technology (iX7 Controller)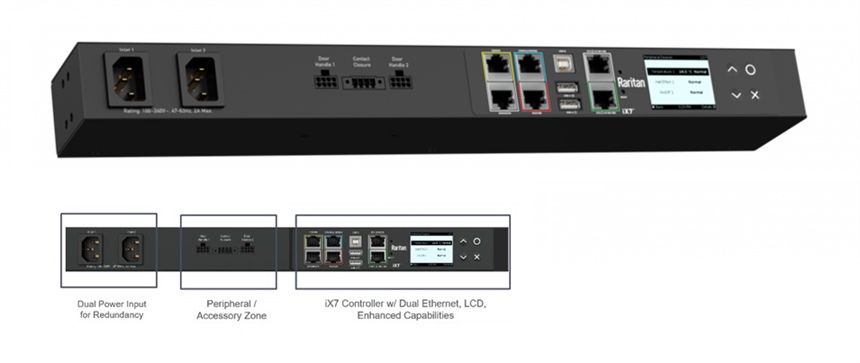 Raritan's Smart Rack Controller (SRC). Perfect for Stand Alone Cabinets, Small Rooms& Closets. With SmartLock 2 local door lock controller ports onboard. This product provides an ideal rack management solution which features the following functions for data centres and server rooms: Support for DX and DX2 environmental sensors, such as temperature and humidity sensors, control and detection of a cabinet's door status (optional) and asset management, which lists all IT devices.

The SRC provides the SENSOR port for connecting Raritan DX or DX2 environmental sensor packages so that you can
remotely monitor environmental factors, such as temperature and humidity, around the rack.
Features:
OPTIMIZE YOUR ENVIRONMENT

Connect up to 204 plug-and-play sensors* that monitor and manage critical environmental conditions, such as temperature, humidity, and airflow, as well as security conditions with physical access control devices like door handles and card readers. (*requires additional accessories)

REMOTE IT LOCATIONS

The SRC provides flexibility in monitoring and managing remote and unstaffed facilities by adding a layer of intelligence enabled by a wide variety of sensors.

SMALL FORM FACTOR PROVIDES FLEXIBILITY

Support existing cabinet infrastructure or even mount outside a rack, in an equipment closet, or other area to make better use of your available space with rackmount or vertical mount orientations.

RECEIVE ADVANCED ALERTS

Define thresholds and receive alerts via SNMP, email, and API when thresholds are crossed for both asset and environmental events

IX7 INTELLIGENT CONTROLLER

The iX7 controller delivers more compute power, reliability, a new level of access control, multiple interface ports, and a future-proof design to help you manage your operations more efficiently and at lower costs.

COMPATIBLE WITH MONITORING SYSTEMS

The Xerus-enabled open architecture provides ease of integration into any BMS or DCIM monitoring software tools with protocols like SNMP, Modbus over TCP/IP, and JSON-RPI.

* Benefits of the Smart Rack Controller *

• Minimize the hours needed to track IT assets, thereby saving time and money
• Ensure uptime by monitoring racks for possible hot spots
• Save on cooling costs by confidently raising data center temperatures
• Maintain cabinet and enclosure security with USB peripherals and contact closure sensors
• Improve data center uptime by receiving environment alerts
• Optimize strategic and tactical decision making for the IT environment by tracking IT changes and growth in real time
• Gain audited controlled access to sensitive IT assets with intelligent door locks
• Available in 100-240AC and +/-48VDC power options

Specification:
Optional Accessories (As seen on the Diagram)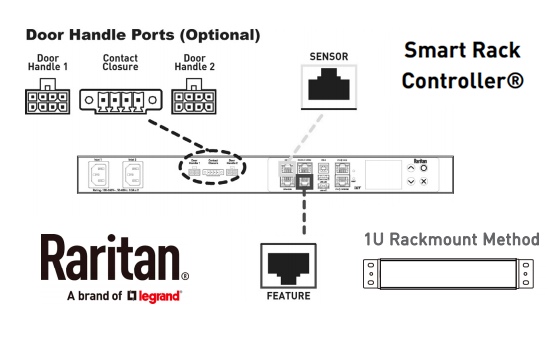 SRC-0102

1U Smart rack controller with, 2 x C14 power inputs, 1 x RJ-45 sensor port, 1 x RJ-45 RS-485 port, 2 x USB-A ports, 1 x USB-B port,
2 x RJ-45 (10/100/1000 Mbps) Ethernet ports, 1 x RJ-45 feature port, with built in 2 x DX2-DH2C2 (Door Handle Interface), multi-color LCD display.

Ports & Connections:

• 100 - Single Port Entry (Compatible with NEW SmartSensor line)
• 102 - Single Port version with local SmartLock door control ports
• 103 - 48V DC Power Option available for Telco and edge
• 800 - 8 Port SRC also available for larger applications cabinet row, containment and large rooms

Models available:

- SRC-0100 supports a maximum of 2 door handles by connecting one DX2-DH2C2.
- SRC-0102 has x2 onboard door handle ports so it supports 4 door handles max.
- SRC-0103 48V dc Version also has x2 onboard door handle ports, it supports 4 door handles max.
- SRC-0800 All Local ports plus 8 x Sensor Ports for expansion

* You can connect x2 door handles to the door handle ports and connect one to the DX2-DH2C2
* Only the door handles sold with DX2-DH2C2 are supported.
* No hot plugging or hot swapping with door handles when they are connected to a powered SRC.