PX3TS-1875R - Raritan - EXD12 Intelligent Transfer Switch Input 200-240v 2x 16A IND309, PDU Outlets 8x C13, 1x C19. High speed 4-8ms transfer (ATS/STS) (PX-1000 Series) V6C *RARITAN SPECIAL OFFER*
Description:
General picture showing Model : PX3TS-1875R .
Other models may be of different size and port selection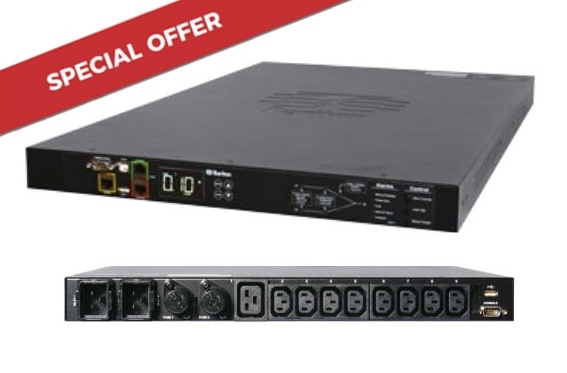 Raritan PX3TS-1875R-EXD12 Intelligent Transfer Switch

Super deal offer
This product has previously been used for one demonstration but is otherwise new and supplied as new in original box with a 1 year warranty.

Entry level:
Input 2 x 16A C20
Outputs 8 x C13 & 1 x C19

Larger models available in the range.

Raritan's innovative rack transfer switch designed for performance and reliability.
The Raritan hybrid rack transfer switches uses electromechanical relays and silicon-controlled rectifiers (SCRs) to transfer a load between two sources. The result is performance and reliability that exceeds that of standard automatic transfer switches (ATS) and at a lower price point than static transfer switches (STS)

Industry leading performance:
Uses SCRs to provide STS-like transfer times and eliminate electrical arcing and welding of relays; hybrid relay plus SCR-design allows hand off of the transferred load to a relay, making it power efficient and producing less heat.

Fast detection time ensures failed power feeds are detected and the loads transferred within 4 to 8ms.

Only rack transfer switch with power metering, energy quality monitoring and support for optional environmental sensors.

Local and remote web-based monitoring and control

Designed with maximum reliability in mind:


Oversized relays, rated at 48A, and SCRs, rated at 70A, even though the transfer switches are intended for 16A and 32A loads.

Prevents transfers of output short circuits which could lead to failure of the second power feed.

Uses two single throw relays instead of one double throw relay (a single point of failure) to support reliable out-of-phase transfers.

Uses relays with an air gap of 3.3mm vs. the 0.6mm gap used in most transfer switch relays on the market. Prevents arcing due to surges.

Offers a 30% larger surface area between the relay contacts to handle larger currents.

Offers surge protection, field replaceable output short protection, redundant internal power supplies and redundant controllers.


Silicon-Controlled Rectifier Switches (STS):

- Offer very fast transfer times (normally 4 to 6ms), but are over five and a half times more expensive than electromechanical switches.
- Draw significantly more energy than electromechanical relays and produce more heat thereby consuming cooling resources.
- Are less energy efficient requiring forced cooling and lower maximum operating temperatures.
- Reduce the energy efficiency of the rack.
Features:
- Fast transfer: Load transfer times 4 – 8ms.
- Reliable transfer between sources regardless of phase.
- Over-sized relays (rated 48A) and SCRs (rated 70A).
- Eliminates electrical arcing that leads to transfer relay failure.
- 3.3mm vs. typical 0.6mm air gap to prevent arcing due to surges.
- Inlet surge protection and field replaceable, fast-blow fuses for short circuit protection.
- V6 Management Controller
- Energy metering and power quality monitoring.
- User configurable thresholds for power quality.
- Ethernet, Modbus and SNMP networking.
- USB ports for Wi-Fi, camera, tablet, and cascading.
- Alarm and status updates via GSM text, email and syslog.
- Supports Raritan plug-and-play environment sensors.
- Runs in up to 60ºC(UL), 50º C(CE) environment at 85% RH.
- Energy efficient and produces less heat
Specification:
General picture showing features of the Model : PX3TS-1875R .
Other models may have different ports and sizing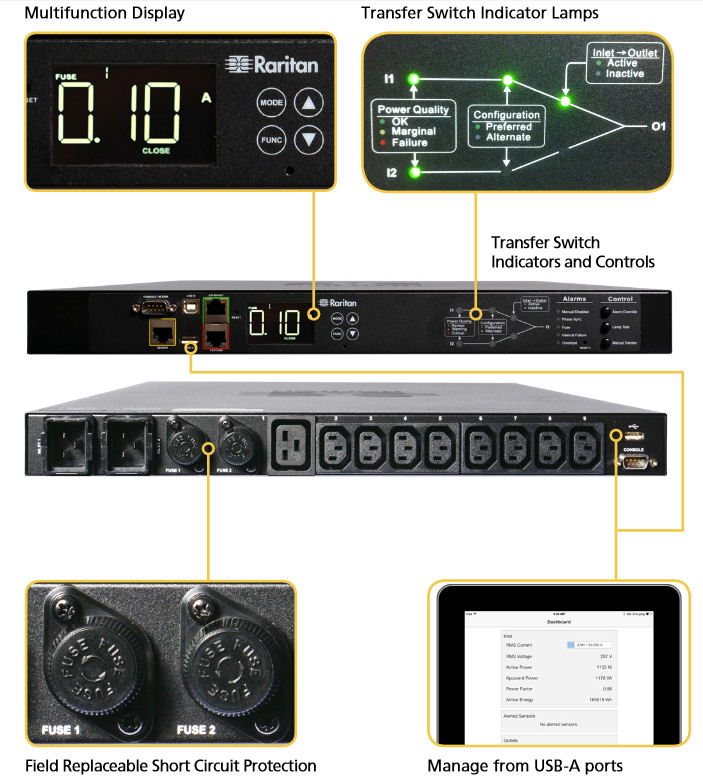 Silicon-Controlled Rectifier Switches (STS):

Model Chassis Input Voltage Plug Type OutputVoltage Outlet Type(QTY) Current Circuit Breaker(QTY) 10/100Ethernet

V6 Controller management

PX3TS-1875R 1U 200-240V 2) IEC 60309 16A 200-240V 8xC13/ 1xC19 16 0 Yes


Raritan PX3TS-1875R-EXD12

Supplied with UK 12 Month return to base warranty.
Repairs by Raritan