PX2-3162 Raritan - Inline Meter: 3PH Wye, 380-415V AC, 16A, 1 Line, Input Type: 1x IEC60309 16A 3PY, Outlet Type: 1x IEC60309 16A 3P, Zero U, Ethernet, Serial, USB-A, USB-B and Sensor Connections (PX-3000 Series) BTO
Description:
LINE DRAWING


Intelligent Power Metering from Raritan

The 19" C19/C20 in-line PX3000 series meters are a welcome addition to the Raritan range adding the ability to collect power meterered information from a 16 Amp C19/C20 connector current route to your devices.
Being from the Raritan DPX Range they also have the same IP Access ports and you can connect temporature and humidity sensors to these units as with other PX's and they work with PowerIQ software.

These models have 16 Amp C19/C20 for you to connect power cables straight into, adding the unit inline through your 16 Amp cabling route.


Features:
Energy Metering Voltage (V), Current (A), Active Power (kW), Real Power (kVA), Energy (kWh), Power Factor
Energy Metering Voltage (V), Current (A), Active Power (kW), Real Power (kVA), Energy (kWh), Power Factor
Metering Accuracy ISO/IEC 62053-21 1%
Metering per Input Line Yes
Metering per Branch Circuit Breaker Yes
Metering per Output Receptacle Yes
Remote Outlet Switching No
Environmental Sensor Ready Yes
Networking 10/100 BaseT Ethernet. Optional WiFi (802.11a/b/g/n)
Remote Management HTTP(s); SSH; Telnet; RS-232 (Serial); Power IQ; SNMP version v2/v3; SMTP; JSON-RPC
Cascading Yes
Max 8 PDUs can be daisy chained using a single Ethernet connection
Onboard Display
3-digit user-selectable display (can be selected between Manual and Auto Display Mode).
Can display Line voltage, Line current, CB Current (if IPDU supports CB), Unit active
power, Unbalanced Current percentage (if 3 phase IPDU), Outlet Voltage, Outlet
Current, and Outlet Active power
Compatible Sensors: Temperature, Humidity, Air Flow, Static Pressure, Single cable connection provides temp/humidity monitoring at three points in cabinet (with a single sensor assembly)

➤ 100 % Power Metering

➤ W/Kwh +/- 1% (0.2% class revenue grade accuracy to IEC 687, ANSI C12.20-2002)

➤ RMS Current, Voltage and Power factor also logged

➤ Data Logging including peak current

➤ Threshold alerting via SNMP and/or e-mail
100 % IP ready

➤ Built-in Web interface

➤ Management via Web or SNMP

➤ Can be integrated with Raritan's PowerIQ™
100 % Secure

➤ 256 bit encryption

➤ User authentication and authorization via LDAP, MS Active Directory

➤ Supports HTTPS and SSH
100 % Monitoring

➤ Feature port to connect external environmental probes (temperature, humidity door contact etc)
Specification:
Typical application setup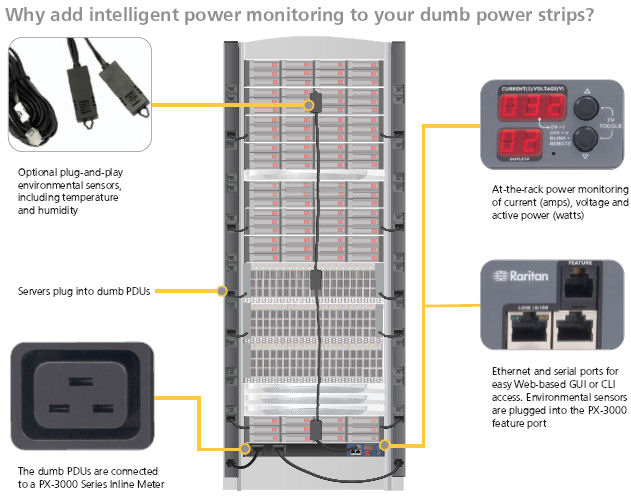 PX2-3162 Raritan - Inline Meter: 3PH Wye, 380-415V AC, 16A, 1 Line, Input Type: 1x IEC60309 16A 3PY, Outlet Type: 1x IEC60309 16A 3P, Zero U, Ethernet, Serial, USB-A, USB-B and Sensor Connections (PX-3000 Series)

BTO - (BUILT TO ORDER)

INPUT

Input Plug IEC 60309 3P+N+E 6h 16A 4P5W (L1/L2/L3/N/E)
IP44("splashproof") (400V, 3 phase)
Cord Length 3 meters (9.84 feet) standard
Cord Entry Bottom-front feed
Cable Type 4P 5W
Number of Power Cords 1
Maximum Input Current 16A (per line)
Nominal Input Voltage 400V, 3 phase
Rated Input Voltage 380 - 415V, 3 phase
Input Frequency 50/60Hz
Power Capacity 0.0kVA at 380V, 0.0kVA at 415V

OUTPUT

Nominal Output Voltage 400V
Rated Output Voltage 380 - 415V
Output Connections (1) IEC 60309 3P+N+E 6h 16A; 16A
Overload Protection N/A
Cable Retention Optional retention clips are also available

PHYSICAL

Unit Dimensions (W x D x H) 2.1" x 2.6" x 17.3" ; 53 mm x 65 mm x 439 mm
Shipping Dimensions (W x D x H) 9.06" x 4.45" x 44.88" ; 230mm x 113mm x 1140mm
Colour: Black powder coat
Mounting: G2-RACK-FOR-ZU

ENVIRONMENTAL

Operating Environment 5 - 60°C (41 - 140°F)
Operating Relative Humidity 5-85%
Operating Elevation 0-10000ft

CONFORMANCE

Regulatory Approvals CE, Canada ICES-003, Class A Part 15 Class A of the FCC rules RoHS