PX2-2190R PDU 1PH 230V 16A IND309 Feed, 8x C13 Outlets 3.7kVA Horizontal 19" Raritan PDU Metered, Outlet Switched, Single Phase (PX-2000 Series) BTO
Description:
LINE DRAWING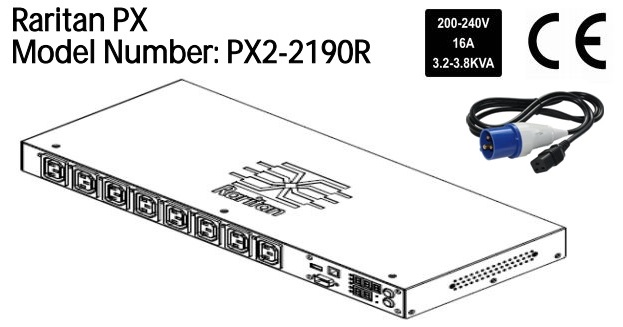 The Raritan PX-2000 family of high-quality, intellignet rack power distribution units (iPDUs) offers real-time remote unit-level power monitoring of current (amps), voltage, power (kVA, kW), power factor and energy consumption (kWh) with ISO/IEC +/- 1% billing-grade accuracy. The PX-2000 also supports Raritan's plug-and- lay environmental sensors. Users can define thresholds and receive alerts when thresholds are crossed for both power and environmental events.

The PX-2000 series is available in Zero U (vertical mount) and 1U (horizontal mount) form factors with a wide variety of NEMA, IEC and other plugs and receptacles, including models which support high power distribution such as 400V. The PX-2000 supports individual outlet switching. Precise power information can be monitored, and the PX-2000 configured, via a user-friendly Web browser GUI or command line interface. Power information is also displayed at the PDU locally. Security is ensured with up to 256-bit encryption, strong passwords and advanced authorization options, including permissions, LDAP/S and Active Directory. Plus the PX-2000 series is fully compatible with Raritan's Power IQ energy management software solutions.
Features:
- Remote power monitoring, metering and rich data collection including current (amps), voltage, power (kVA, kW) and energy consumption (kWh)

- LED and alarms for unbalanced loads based on user-adjustable thresholds

- Capable of ISO/IEC +/- 1% billing-grade accuracy real-time power monitoring and metering, down to individual outlets for some models

- User-adjustable power data sampling and buffering

- Alerts via SNMP, e-mail and syslog from individual outlets, units, lines and circuit breakers when user-adjustable thresholds are exceeded

- Standards based polling, configuration and alerting with encryption via SNMP v1, v2, v3 support, SETs, GETs and TRAPs

- Ethernet, serial, USB-A, USB-B and sensor connections

- Directory services support providing advanced authorization options, including permissions, LDAP/S, RADIUS and Active Directory®. 256-bit AES encryption and strong passwords

- Remote access via Web and CLI. Supports HTTP, HTTPS, SSH and Telnet

- Compatible with Raritan's Power IQ®

- Environment-monitoring-ready intelligent rack PDUs with optional plug-and-play environmental sensors

- Alerts based on user-defined environmental thresholds

- LED indication if sensor is plugged in and detected

- High-power, including 400V power distribution and high temp 60C models

- High-quality construction and components such as solder connections to copper bus bars in PCBs, ISO 9000 quality manufacturing and quality components from Tyco, Hubbell® and Mennekes®

- Lightweight and strong extruded aluminum chassis with excellent heat dissipation and versatile button and bracket mounts

- UL489 circuit breakers

- Smart reversible LED display that changes orientation
Specification:
PLUG: 16AIND309 (Single Phase)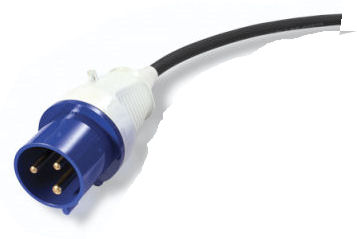 PX2-2190R PDU 1PH 230V 16A IND309 Feed, 8x C13 Outlets 3.7kVA Horizontal 19" Raritan PDU Metered, Outlet Switched, Single Phase (PX-2000 Series)

BTO - (BUILT TO ORDER)

INPUT

Nominal voltage: 230V AC
Maximum line current: 16A
Rated current: 16A
Load capacity: 3.7 kVA
Frequency: 50-60 Hz
Plug type: IEC60309 16A

OUTPUT

Nominal voltage: 230V AC
Maximum current draw: 16A
Switched receptacles: 8 x
IEC C-13

METERING

Inlet: Kilowatt hours (kWh), current (Amps), voltage, power (kVA, kW), power factor

MANAGEMENT

Optional temperature and humidity sensors (RJ-12 connector)

Interface and Protocol Support

10-100 Mbps Ethernet (RJ-45 connector)
RS-232 serial (DB9 connector)
Feature/KVM (RJ-45 connector)
USB-A (host), USB-B (device)
SNMPv2, v3 TRAPs, GETs, SETs
Web browser and command line interface access

PHYSICAL

Rack space: 1U
Mounting: Rack mount brackets included
Dimensions (WxDxH): 17.3" x 7.2" x 1.7"; 440 x 183 x 44mm
Weight: 7.8 lbs; 3.6 kg
Display panel: Autoflip LED for PDU current (A), voltage, power (kW), unbalance (%)
Sensor indicator
Line cord: 10 ft / 3 m
Color: Black powder coat
Shipping dimensions (WxDxH):
Shipping weight: lbs; kg

ENVIRONMENTAL REQUIREMENTS

Operating temperature: 5-50 degrees Celsius (CE)
Humidity: 5-90% RH non-condensing
Altitude: 10,000 feet

CONFORMANCE

FCC Part 15, A; UL and c-UL 60950
RoHS compliant

WARRENTY

Two years, 100% parts and workmanship