PX3-1190R - Raritan - IP Access, 230V AC 1Ph, 16A, C13 x 8 Outlets, 3.68kVA, 1U, Horizontal PDU, Ethernet, serial, USB-A&B with sensor connections - Updated (PX-1000 Series) BTO
Description:
RARITAN: PX3-1190R (1U - 16A PDU)


Monitored rack power distribution unit (1U [horizontal], 3.7kVA, 8 outlets). INPUT: 230v, 16a - IEC 60309 2P+E 6h 16A plug (2P3W); OUTPUT: 8@ C13 outlets; FEATURES: Billing-Grade (+/- 1%) Energy Metering [kW, kVA, V, A, Power Factor] - per inlet; 3-digit LED user-selectable display (voltage, current, or active power : per line). Local display of alarms and configuration information(name, ratings, IP/Networking); Onboard embedded processor with minimum 400MHz clock speed, 16MB NOR Flash, and 64MB SDRAM; Remote network monitoring via HTML, JSON-RPC, SSH, Telnet, MODBUS/TCP, and SNMPv3. Environmental monitoring [temp/humidity] capable of up to 32 sensors. Individual outlet numbers labeled on chassis. Automated deployment via TFTP, DHCP/PXE, SSH(CLI), or USB Flash Drives. WiFi Capable. USB Webcam Capable. iPad/iPhone/Android App. Max Dimensions 440mm x 133mm x 44mm (17.3in x 5.2in x 1.7in). Max Weight 2 kg. Maximum ambient temperature 50C at full load.
Features:
Metering Accuracy: ISO/IEC 62053-21 1%

- Securelock
- Remote Outlet Switching
- Metering per input line for all models
- Metering per Branch Circuit Breaker
- Environmental Sensor Ready

Energy Metering

Voltage (V), Current (A), Active Power (kW), Real Power (kVA), Energy (kWh), Power Factor

Compatible Sensors

Temperature, Humidity, Air Flow, Differential Pressure, Water Leak, and Contact Closure

Cascading

Yes, Max 16 PDUs can be daisy chained using a USB or Ethernet connection.

Networking

(10/100/1000 Base T) Ethernet, Secondary redundant (10/100 Base T) Ethernet. Optional WiFi (802.11 a/b/g/n).

On board Display

Color, matrix LCD display : Voltage, current, or active power (per line, per breaker, or per receptacle / outlet); Alarms; Configuration information (name, ratings, IP / Networking information). Auto-flip

Specification:

PLUG: IEC60309 (16A)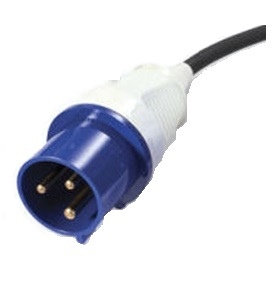 INPUT

Input Plug IEC60309 16A (2P3W)
Cord Length 3 meters (9.84 feet) standard
Cord Entry Rear feed
Cable Type IP44("splashproof")
Number of Power Cords 1
Maximum Input Current 16A
Nominal Input Voltage 230V, Single phase
Rated Input Voltage 200-240V
Input Frequency 50/60Hz
Power Capacity 3.2kVA at 200V, 3.8kVA at 240V

OUTPUT

Nominal Output Voltage 230V
Rated Output Voltage 200-240V
Receptacles (Output Connections) (8) C13, 10A
Securelock Support Yes
Cord Retention No
Overload Protection N/A

PHYSICAL

Color Black powder coat (custom colors available)
Unit Dimensions (WxDxH) 440mm x 133mm x 44mm; 17.3" x 5.2" x 1.7"
Mounting RACK-KIT-PX2-1K-1U 2
Technical Specifications / Engineering Submittals
Raritan Model Number: PX3-1190R rev20191210

ENVIRONMENTAL

Operating Temperature 60°C
Operating Relative Humidity 85%
Operating Elevation 0-10000ft

CONFORMANCE

Regulatory Approvals CE, Canada ICES-003,
Part 15 Class A of the FCC rules, RoHS compliant

Warranty

Standard 2 years manufacturer warranty

BTO (Built to Order)

Lead time on 6-8 weeks