PX3-3411 - Raritan 4 channel IEC C19 to C20 Unit. PX3000 series IP Access in-line Power Meters. With plug in environmental sensor port. (PX-3000 Series) BTO
Description:
Domionion PX-3411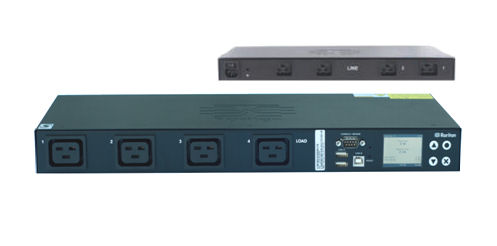 Intelligent Power Metering from Raritan Quad 16A remote power meter unit with local display, remote network and environmental probe connections 4 x Channel C19/20 inline Meter with IP Access. The 19" C19/C20 in-line PX3000 series meters are a welcome addition to the Raritan range adding the ability to collect power meterered information from a 16 Amp C19/C20 connector current route to your devices.
Being from the Raritan DPX Range they also have the same IP Access ports and you can connect temporature and humidity sensors to these units as with other PX's and they work with PowerIQ software.

Input: Nominal voltage: 100-240V, Maximum line current per circuit: 16 Amps, Rated current: 16 Amps
Load capacity: 1.6-3.84 kVA, PlugType: IEC320 C20
Output: Nominal voltage: 100-240V, Maximum current draw: 16 Amps, Receptacles: (4)IEC320 C19
Mechanical: Display/control panel: LED for current and voltage by outlet and total PDU, Color: Black powder coat
Metering Per Channel:
Input: Current, voltage and power for each line
Output: Current, voltage and power for each outlet and
Total PDU: Current and trip state (on/off) for each circuit breaker
Rack Environment Management: Optional temperature and humidity sensors (RJ-12 connector)
Interface and Protocol Support: 10-100 Mbps Ethernet (RJ-45 connector), RS-232 serial (RJ-45 connector)
SNMPv2, v3 TRAPs, GETs, SETs, Web browser and command line interface access

These models have 16 Amp C19/C20 for you to connect power cables straight into, adding the unit inline through your 16 Amp cabling route.


Features:
• 100 % Power Metering

• W/Kwh +/- 1% (0.2% class revenue grade accuracy to IEC 687, ANSI C12.20-2002)

• RMS Current, Voltage and Power factor also logged

• Data Logging including peak current

• Threshold alerting via SNMP and/or e-mail
100 % IP ready

• Built-in Web interface

• Management via Web or SNMP

• Can be integrated with Raritan's PowerIQ™
100 % Secure

• 256 bit encryption

• User authentication and authorization via LDAP, MS Active Directory

• Supports HTTPS and SSH
100 % Monitoring

• Feature port to connect external environmental probes (temperature, humidity door contact etc)
Specification:
Typical application setup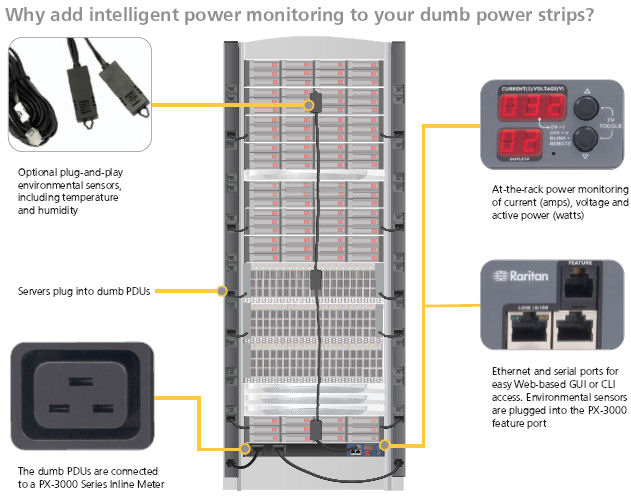 PX3-3411 - Raritan 4 channel IEC C19 to C20 Unit. PX3000 series IP Access in-line Power Meters. With plug in environmental sensor port. (PX-3000 Series)

BTO - (BUILT TO ORDER)

PX3411 Meters

4 x Channel C19/20 inline Meter with IP Access

19" rack mount unit

2 Line Independent Meter
Channels at up to 16A via each C19/C20

Rated upto16Amp

120-240Volt Single Phase

Input

* Nominal voltage: 100 - 240V AC, single phase
* Maximum current per line: 20A
* Rated current: 16A per line
* Load capacity: 3.8 kVA
* Frequency: 50-60 Hz
* Input type: 4 x IEC C-20

Output

* Nominal voltage: 100 - 240V AC
* Current draw: 16A or 20A per line depending on output cable
* Output type: 4 x IEC C-19

Metering

* Input: Current, voltage and power for each line
* Output:
o Current, voltage and power for each outlet and total PDU
o Current and trip state (on/off) for each circuit breaker

Rack Environment Management

* Optional temperature and humidity sensors (RJ-12 connector)

Interface and Protocol Support

* 10-100 Mbps Ethernet (RJ-45 connector)
* RS-232 serial (RJ-45 connector)
* SNMPv2, v3 TRAPs, GETs, SETs
* Web browser and command line interface access

Mechanical

* Rack space: 1U
* Mounting: Rack mount brackets included
* Dimensions (WxDxH): 17.3" x 11.3" x 1.7"; 440 x 287 x 44mm
* Weight: 10.5 lbs; 4.8 kg
* Color: Black powder coat
* Shipping dimensions (WxDxH):
* Shipping weight: lbs; kg

Environmental Requirements

* Operating temperature: 5-45 degrees Celsius
* Humidity: 5-90% RH non-condensing
* Altitude: 10,000 feet

Approvals

* FCC Part 15, A; UL and c-UL 60950
* RoHS compliant

Warranty

* Two years, 100% parts and workmanship return to base standard