PX-5528 Raritan 3-Phase Zero U vertical PDU with 18 x IEC C-13 and 6 x IEC C-19 outlets, 400V AC 3PH Wye, 32A, 22.2kVA, IEC 60309 plug. Ethernet and serial connections. PX-5000 DPX-5528

OUT OF STOCK SEE REPLACEMENT VERSION
Description:
Raritan Dominion PX 5000 Range Units 3 Phase. Pictured Model is the PX5528 24 outlet version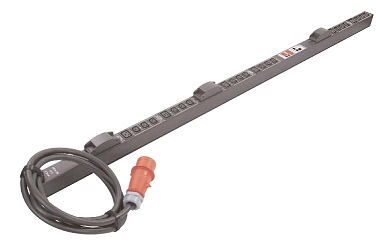 PX-5528 Raritan 3-Phase Zero U vertical PDU with 18 x IEC C-13 and 6 x IEC C-19 outlets, 400V AC 3PH Wye, 32A, 22.2kVA, IEC 60309 plug. Ethernet and serial connections. DPX-5528
Outlet Metered, Outlet Switched iPDU – PX-5000

The Raritan PX-5000 family of high-quality rack power distribution units (PDUs) offers real-time remote unit-level and individual outlet-level switching and power monitoring of current (amps), voltage, power (kVA, kW), power factor and energy consumption (kWh) with ISO/IEC +/- 1% billing-grade accuracy. The PX-5000 also supports Raritan's plug-and-play environmental sensors. Users can define thresholds and receive alerts when thresholds are crossed for both power and environmental events.
The PX-5000 series is available in Zero U (vertical mount) and 1U and 2U (horizontal mount) form factors with a wide variety of NEMA, IEC and other plugs and receptacles, including models that support high power distribution such as 400V. Precise power information can be monitored, and the PX-5000 configured, via a user-friendly Web browser GUI or command line interface. Power information is also displayed at the PDU locally. Security is ensured with up to 256-bit encryption, strong passwords and advanced authorization options, including permissions, LDAP/S and Active Directory®. Plus the PX-5000 series is fully compatible with Raritan's Power IQ energy management software solutions

Features:
Power Sequencing -
(User Defined)- In the event the PX is reset, the outlets will be turned on in a user-defined sequence at user-defined intervals to prevent tripping circuit breakers due to in-rush currents. (Applies only to PX models that support switching.)

Receptacle Status Retention -
In the event of a power outage, power is restored only to those receptacles that were on before the outage. For PX models that don't support switching, power will be restored to all outlets.

Circuit Breakers -
The PX uses UL 489 circuit breakers instead of fuses in 30A/32A models or higher, meeting the newest safety standard for branch circuit protection (UL60950 third edition). This eliminates the need for spare fuses and the time to replace them. Also, in many cases, a certified/licensed electrician is required to replace a fuse, whereas circuit breakers can be reset by a user.

Power Monitoring -

Power Metering -
The PX enables users to measure power at the outlet level (RMS, apparent power), providing an accurate view of power consumption at both a server or PDU level.

Alerting -
In case a threshold is exceeded, or a circuit breaker trips, the PX alerts the user via e-mail, SMS (via external gateway), audio alarm, and SNMP TRAPs, providing advanced warning before major incidents occur.

Overload Alarm -
User-configurable current threshold provides audible and visual alarm on current overload, allowing the user to act immediately to prevent potential burnouts and interruption of services.

Environmental Monitoring -
The PX supports external optional but fully integrated temperature and humidity sensors, providing early warning about hotspots or changes in cooling.

Seven-Segment LED Display -
Shows actual current, voltage and circuit breaker status of the PDU for both the total strip and for individual receptacles.

Remote Access -
IP Auto Configuration with DHCP, BOOTP

Easy setup and administration.

Flexible Remote Access Options -
Users can access the PX through a variety of access protocols for switching (where supported), metering, data collection and monitoring:

* Convenient HTML GUI
* Server Management Interface (IPMI)
* Network Management Interface (SNMP)
* UNIX®-like console interface via serial connector or TELNET/SSH (compatible with SMASH server management)

Dynamic DNS Support -
Users can access the PX over a connection with a dynamically assigned IP address - which corresponds to a single DNS name.

IPMI and SMASH CLP -
The first and only PDU in the world that supports industry management standards: the Intelligent Platform Management Interface (IPMI) and the Distributed Management Task Force's (DMTF) Systems Management Architecture for Server Hardware (SMASH) CLP, providing a uniform way to manage both servers and the PDU.

Power Management

HTML User Interface -
The PX's intuitive browser-based GUI enables remote energy management.

Outlet Grouping -
When using PX models which support switching in a stand-alone mode over TCP/IP, users can define multiple outlets across multiple PDUs to function as a single virtual outlet. This is useful for powering down and rebooting servers with redundant power supplies.

Virtual Outlets -
For PX models that support switching, outlets on multiple PX units can be grouped for ease of management and administration of servers.

Integration with Multiple Raritan Solutions -
Simplified power control capabilities, power on/off/recycle, is available through Raritan's Dominion KXII, Dominion SX, Paragon® II, and CommandCenter® Secure Gateway 3.1.1 or higher, providing systems administrators access to power control via one­user interface.

Security -
Up to 256-bit AES Encryption
The PX is the first and only PDU in the industry that supports 256-bit AES encryption.

SSL Certificate -
Creating individual server side SSL certificates enhances the security level of PX.

Event Logging -
Tracks user logins, logouts, and power activities for an audit trail to support regulatory compliance.

Local and Remote Authentication and Authorization -
PX provides built-in support for standards-based authentication protocols, including LDAP/S, RADIUS, and Active Directory. When deployed in conjunction with other Raritan solutions, additional authentication schemes can be supported, including TACACS+, Kerberos, and SecureID.

User-Rights Per Outlet -
An administrator can assign permissions on an outlet level to prevent unauthorized access.

Hardware Features -
Vertical and Horizontal Rack Mount Models
PX units come in a choice of space-saving form factors for vertical and horizontal rack mounting. 1U and 2U units mount horizontally on standard racks. Zero U units mount vertically on rack frames.

Integration with Industry-Leading Racks -
Easy integration and support for up to 5 different mounting positions in industry-leading racks.

Connections -
Serial RJ-12 for environmental probes, RJ-45 for serial access/Power-CIM, RJ-45 Ethernet 10/100Base-T. Link status, network activity, and 10/100 status LED. Full support for full-duplex and 100Mbps operation.

Receptacle Status LED -
Individual LED indicator at each receptacle allow for quick and easy status checks at the rack.

Flexibility of Connections -
Simultaneous connection via Ethernet (TCP/IP) and serial ports for advanced applications and redundancy of connections.
Specification:
Close up of features GENERAL GUIDE PICTURE ONLY. Actual spec. unit may vary from picture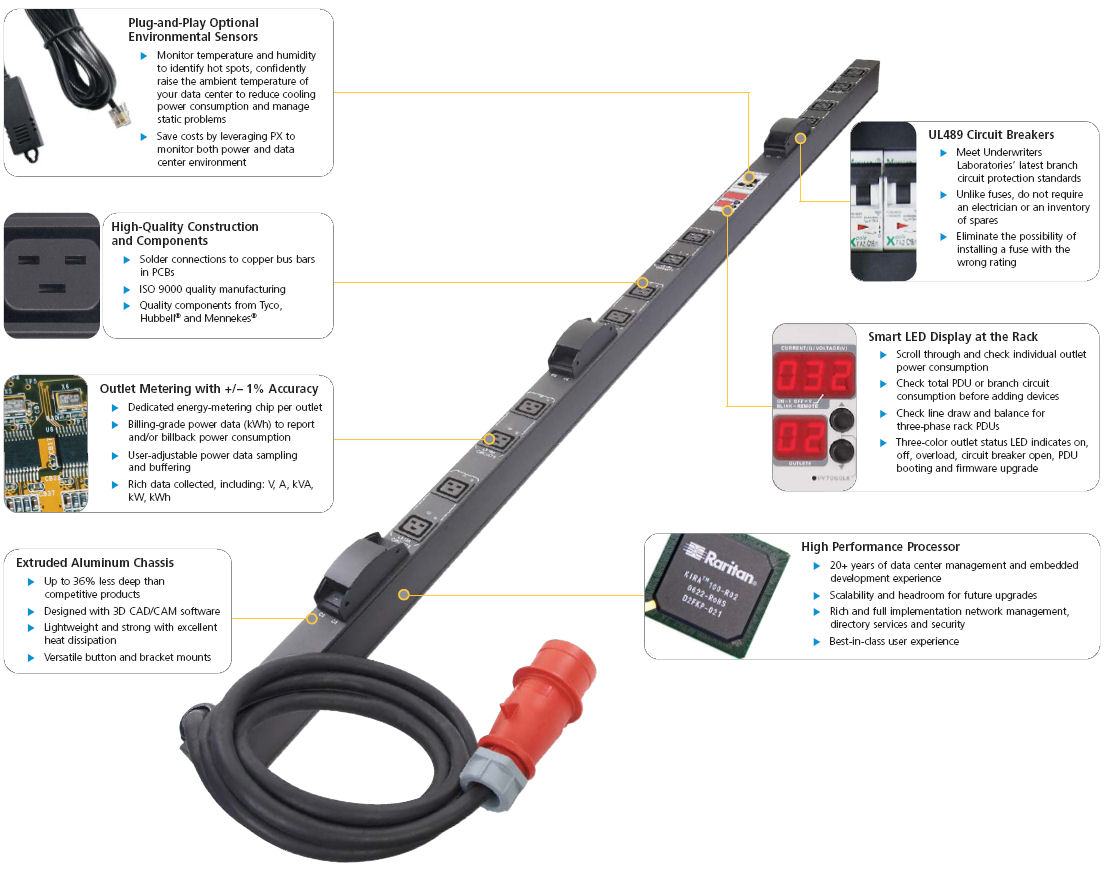 Input
• Voltage: 400V AC, three-phase WYE
• Maximum amperage per phase: 32A
• Frequency: 50-60 Hz
• Plug type: IEC 60309

Output
• Voltage: 230V AC
• Maximum amperage per circuit: 6 x 16A
• Power: 22.2 kVA
• Receptacles: 18 x IEC C-13, 6 x IEC C-19
• Protection: 6 x 16A single pole magnetic UL489 circuit breakers

Metering
• Input: Current, voltage and power for each line
• Output:
- Current, voltage and power for each outlet and total PDU
- Current and trip state (on/off) for each circuit breaker

Mechanical
• Rack space: Zero U
• Mounting: Rack mount brackets included
• Dimensions (WxDxH): 52 x 65 x 1780mm / 2.06" x 2.57" x 70.08"
• Weight: 10.8 kg / 23.8 lbs
• Display panel: LED for PDU and outlet current and voltage
• Line cord: 3 m / 10 ft


~~~~~
400 Volts 3Phase AC Units
Controllable Receptacles 18 x IEC C13
6 x IEC C19
32 Amp Supply IND 309
Ethernet and Serial connections

Input

* Nominal voltage: 400V AC, three-phase WYE
* Maximum line current per phase: 32A
* Rated current: 32A
* Frequency: 50-60 Hz
* Plug type: IEC 60309

Output

* Nominal voltage: 230V AC
* Maximum current draw per circuit: 6 x 16A
* Load capacity: 22.2 kVA
* Receptacles: 18 x IEC C-13, 6 x IEC C-19
* Overload protection: 6 x 16A single pole UL489 circuit breakers

Metering

* Input: Current, voltage and power for each line
* Output:
o Current, voltage and power for each outlet and total PDU
o Current and trip state (on/off) for each circuit breaker

Interface and Protocol Support

* 10-100 Mbps Ethernet (RJ-45 connector)
* RS-232 serial (RJ-45 connector)
* SNMPv2, v3 TRAPs, GETs, SETs
* Web browser and command line interface access

Mechanical

* Rack space: Zero U
* Mounting: Rack mount brackets included
* Dimensions (WxDxH): 2.06" x 2.57" x 70.08"; 52 x 65 x 1780mm
* Weight: 23.8 lbs; 10.8 kg
* Display panel: LED for PDU and outlet current and voltage
* Line cord: 10 ft / 3 m
* Color: Black powder coat
* Shipping dimensions (WxDxH):
* Shipping weight:

Environmental requirements

* Operating temperature: 5-45 degrees Celsius
* Humidity: 5-90% RH non-condensing
* Altitude: 10,000 feet

Approvals

* FCC Part 15, A; UL and c-UL 60950
* RoHS compliant

Warranty

* Two years, 100% parts and workmanship