DX2-T3H1 - Raritan Sensor - Trio combo Temperature (3) and Humidity (1) SmartSensor Kit, replaceable sensor modules with RJ-45. (Environmental Monitoring Sensors)
Description:
DX2-T3H1 (Temperature and Humidity SmartSensor Kit)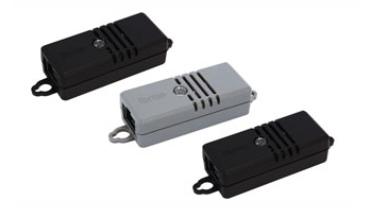 The Raritan DX2-T3H1 is a Smart Sensor Kit that monitors Temperature & Humidity with one single Sensor plus two other separate temporature Sensors. Replaceable Sensor Head is included for use with PX3 PDU. There is a 3m and Cat5 with RJ45 Connector.

With Raritan's SmartSensors, adding environmental monitoring to your existing infrastructure is easier and more cost-effective than ever before.

Setting the new standard for easy data center deployment with its plug-and-play connection to any Raritan power device including PX intelligent rack PDU series, smart rack controllers, PX inline meters, rack transfer switches, and branch circuit monitors.
Features:
Temperature (3) Sensor
Humidity (1) Sensor

Replaceable Sensor Head

3M Cat5 Cable with RJ45 Connector

RJ45, REMOVABLE SENSOR HEADS

If sensor accuracy diminishes, you don't need to remove the entire sensor; just replace the sensor head to maintain a high degree of accuracy.

LED INDICATOR

LED light that visually alerts technicians when temperature thresholds are exceeded.

SINGLE BUS/STRING TECHNOLOGY

Offering the highest flexibility of deployment by the standard msensor cord or any Cat 5/6-type cable connection, the SmartSensor allows you to cascade up to 32 sensors through a single bus. The SmartSensor makes it easy to instrument entire rows of your data center with different types of sensors through a single control device.
Specification:
Support for Customizable Configuration with Single Bus/String Technology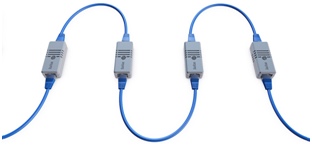 Single combo temperature and humidity sensor, field replaceable sensor modules, 10ft (3m) cable, RJ-45 connector (Not supported by DPX and PX models.)

Range:
-25C to +75C, 0% RH to 100% RH

Accuracy:
+/-1°C, +/-2.5% RH for 20%-60% @ 25°C

Rack Inlet Temperature and Humidity The DX2-T3H1 strings together 3 sensor heads, making it easy to mount them at the bottom, middle, and top of the cool air inlet side as per guidelines.

DX2-T3H1 kit = will consist of 2 x DX2-T1 and 1x DX2-T1H1.