DPX3-T2H2-KIT - Raritan Sensor - Two single combo temperature and humidity sensors, 3m cable / RJ-45 connector
Description:
DPX3-T2H2-KIT ( Temperature & Humidity Sensor )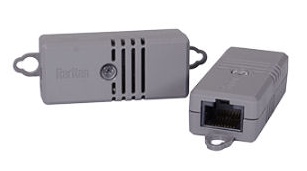 Raritan's sensors are deployed as plug-and-play options for PX intelligent rack PDUs, EMX rack controllers, PX inline meters and branch circuit monitors eliminating the need for a separate controller. Environment data is instantly sent to a DCIM software solution. A simple web-based interface allows data center managers to see real-time environment data and report trends over time.
Features:
Two Single Combo Temperature and Humidity Sensor. Daisy Chainable (15x), 2x RJ45 (F)

2 x Sensors for Temperature & Humidity Combined

Raritan environment sensors enable data center managers to:

• Ensure uptime by monitoring racks for potential hot spots.
• Save on cooling by confidently raising data center temperatures.
• Maintain cabinet security with contact closure sensors.
• Improve data center availability by receiving environment alerts.
• Make strategic decisions on cooling design and containment.
• Set thresholds and alerts to monitor onsite or remote facilities.

Specification:
Environmental Monitoring Systems: Temperature & Humidity


X2 single combo temperature and humidity sensors, field replaceable modules, 3m cable / RJ-45

Range:
-25C to +75C, 0% RH to 100% RH

Accuracy:
+/-1°C, +/-2.5% RH for 20%-60% @ 25°C

Rack Inlet Temperature and Humidity The DPX3-T2H2-KIT strings together 3 sensor heads, making it easy to mount them at the bottom, middle, and top of the cool air inlet side as per guidelines.